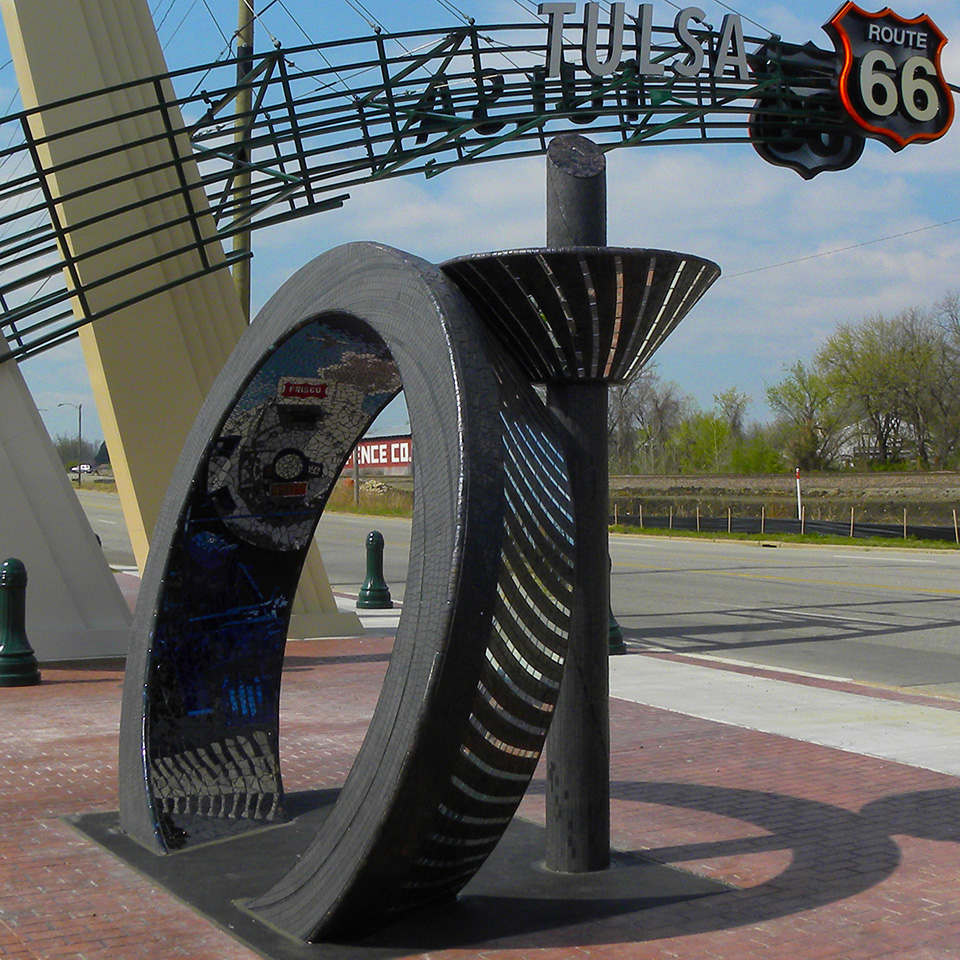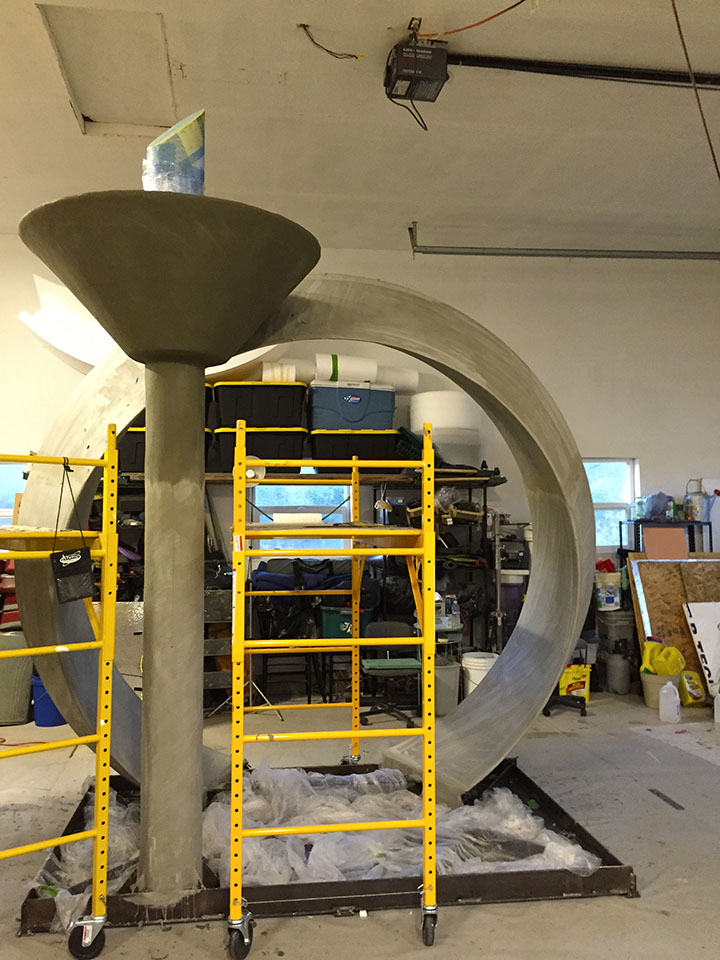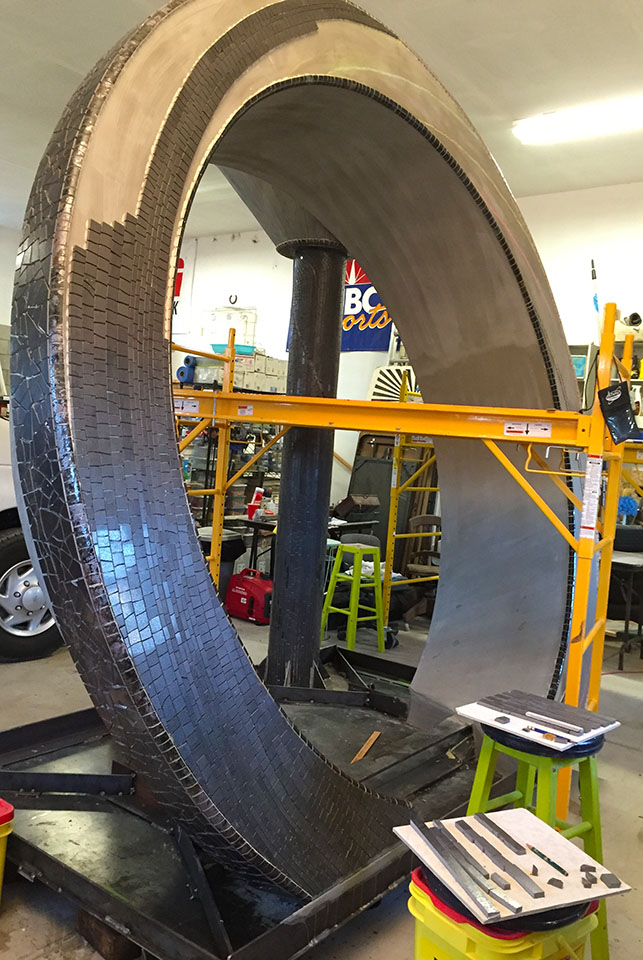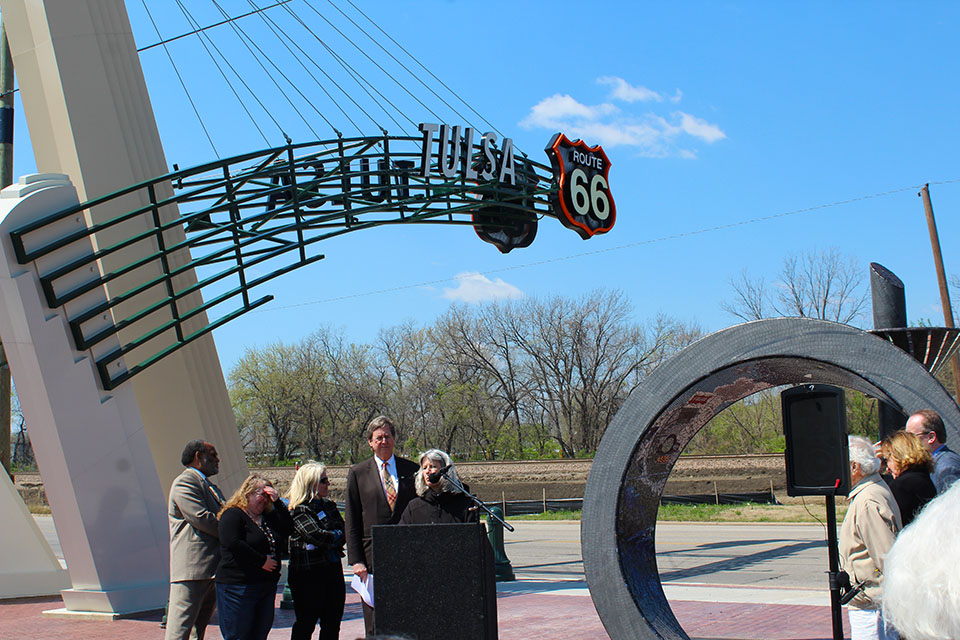 FLOATING HANGER
Part of the Route 66 Enhancement Project - Vision 2025
Crystal City Shopping Center
Tulsa, Oklahoma
Floating Hanger was inspired by the idea of machinery and motion and Tulsa and its part in the oil industry, keeping the machinery of America going. The sculpture represents all of those things in the form of a ring and pinion gear, a basic part in machinery. The imagery around the inside of the ring gear tells of transportation through time, up to the current age of space exploration. Included are Oklahoma's state dinosaur, the Acrocanthosaurus, and state bird, the scissor-tailed flycatcher. Above, a spacecraft is shown heading for what might be the moon in the night sky of the mosaic.
The name, "Floating Hanger," refers to oil field worker slang for a "jack-of-all-trades," or some think it might be a part of an oil rig. The artist leaves it up to you to decide. Either way, this public art installation is a gift for Tulsa, in celebration of its oil and transportation history and as part of Route 66.
Visitors can login to
then under 'Play' choose 'Trackable', type in the code number on the coin RTFBEJ and add a log entry (and a photo if you like) to share their thoughts / experiences about visiting the art installation, Floating Hanger, and the Route 66 area in Tulsa.
Special thanks to:
Vision 2025
Mayor Dewey F. Bartlett, Jr.,
The Tulsa City Council
and the Board of Tulsa County Commissioners wish to express gratitude to Tulsa County voters for their support of
Vision 2025: Route 66 Enhancements and Promotion
Photos by:
Eileen Gay & Jon Gay
Matt Barnard
Roy Heim
Links to Tulsa World: